Bianca Censori confirms rumors of marriage to Kanye West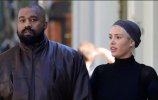 Bianca Censori has confirmed her marriage to Kanye West. Recall rumours of their relationship started floating around recently as the duo were spotted together but now, Bianca has confirmed this.

Kanye West is an American rapper who was once married to popular reality TV star, Kim Kardashian. Ye and Kim Kardashian were married for years. They got married in 2014 and split in 2022. They have four children together named North, Saint, Chi, and Psalm.
Bianca Censori confirmed the marriage to Kanye in a video which has gone viral, a man had attempted to flirt with her and was requesting for her phone number in a shop and she replied saying she was married to Kanye.
The couple was also seen in Los Angeles recently holding hands and this also sparked reactions from people.
Bianca Censori is the Head of Achitecture at Yeezy which is Kanye West's company. She started working there in 2020.