Nigerian singer, phyno says Burna Boy is his blood brother
Popular Nigerian musician Phyno recently disclosed that he sees Burna Boy as his blood brother. He was speaking in an interview recently where he said it outrightly that Burna Boy is his blood brother. Burna Boy and Phyno are both Nigerian musicians and they are very good friends.

Phyno is a 37 year old musician. His real name is Chibuzo Nelson Azubuike, but he is popularly known as Phyno. He is a Nigerian rapper, record producer, singer, and a songwriter. He is from Anambra State. He was born on the 9th of October 1986 in Enugu State. He came into the music industry in 2003 and began his career as a producer. Phyno is known for rapping in Igbo language.
Burna Boy is a famous Nigerian Award-winning Afrobeats artist. His real name is Damini Ebunoluwa Ogulu. He is 32 years old. He is a Grammy award winner.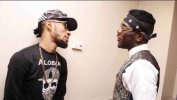 In the recent interview Phyno granted, the interviewer had asked Phyno to speak about how Burna Boy has mentioned over the years that Phyno is the friend he has in the whole music industry. Phyno then mentioned that Burna Boy is his blood brother.
Recall in an interview in 2016, Burna Boy revealed that phyno is the best friend he has in the industry.
In his words "Phyno is like my best industry friend"
Burna Boy and Phyno are not only friends or colleagues but call each other brothers. The duo have a couple of songs together including songs like Duro ni be which was released in 2015. This song was released by Burna and features Phyno
See video below
Another song is Link up which was released in 2017 by Phyno featuring Burna Boy
Another song is titled No be my style and this was released in 2016 by Phyno ft Burna Boy