Train collides with BRT bus in Lagos state.

Just this morning, news of a crash in Lagos spread online. A train crashed into a BRT bus which had workers of the state government on board.
The crash happened at PWD bus stop junction at Ikeja. It was said that the train was coming from Agege but crashed into this bus which was crossing the railway.

The Lagos state fire and rescue service were there at the accident scene alongside the Lagos state police and Nigerian army.
LASTMA (Lagos state transport management agency) officials were also present.
The accident victims have been rushed to LASUTH (Lagos state university teaching hospital) for treatment.
Sympathizers at the scene said the bus had so much blood inside.
We've learnt that 2 people are dead while many others are seriously injured. These are people who, according to the governor, died at the scene of the accident.
Some photos have also been released showing how the accident victims are being treated on the floor after being rushed to the hospital.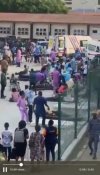 The emergency ward did not have bed spaces for them to place the victims so they attended to them outside.
This is in a bid to save their lives so they are doing what they can outside the hospital building.
So many people are complaining about the terrible healthcare system in Nigeria after seeing the way these people are being treated outside since there are no bed spaces for them within the hospital.
The new update says 4 more people have passed away at the hospital and others still injured.