Bridge in Lagos collapses, causes gridlock and aids robbers operation.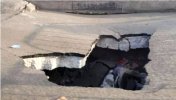 Some robbers have began their operations as some cars have been trapped in a Gridlock after a section of a bridge in Lagis collapsed.
These men began to rob cars that that were stuck in this situation. The incident trapped at the Ijora-Olopa Bridge in Lagos state.
A section of the bridge collapsed in and cars couldn't go through this section. Thus incident happened on Tuesday.
The traffic was quickly diverted to the other side of the road but it had cause a gridlock and it was then these armed robbers struck.
These men had stolen valuables like phones and money and some other things.
Reports state that a lady was injured by these robbers. They had injured her with a knife and robbed her of her belongings.
Luckily some soldiers passed by at the time of the attack and rescued the situation.
The robbers fled as soon as the saw the soldiers.
Residents have begun to plead with the government to quickly work on the collapsed section and more parts of the bridge.
The engineers have been unable to confirm when the work on the bridge will begin.
They said they had just heard about his incident on Wednesday.
Mr Babatunde Fashola who is the Minister of Works and Housing raised a statement signed by his special Adviser.
The statement revealed that roads leading directly to the bridge like Costain inward Eko Bridge and Carter Bridge descent inward Ijora Oloye have been closed to traffic as a result of this.