Buhari's Daughter reveals her father is a silent achiever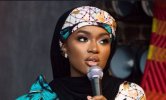 President Buhari's daughter, Aisha has revealed that her father is a silent achiever.
Mrs Aisha Hanan, is the daughter of the outgoing President of Nigeria, Major General Muhammadu Buhari.

She revealed this on social media recently. She shared a post on her Instagram story on Tuesday, may 23, and praised him for being a silent achiever.

Recall the president, Buhari will complete his term as president of Nigeria come May 29 when the president-elect elect Tinubu will be Inaugurated
President Buhari has been taking part in inaugurating projects in Nigeria during his final week as president.