Former Super Eagles star Ben Duamlong, graduates at 69.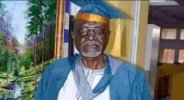 Ben Duamlong who is a former star of the Nigerian Super Eagles has graduated at the age of 69 years old.
He was also a one-time coach of the Super Eagles. He graduated from the University of Jos at 69 years.
The interesting and inspiring thing is that he was the best graduating student of his set. He graduated with a CGPA of 4.32.
Many have begun to celebrate him as he went ahead to complete his dream even at this age.
He knew his goal and he made sure he carried it out.
He had spent his younger days (teenage years and as a young adult) as a football player and eventually a coach for the super Eagles.
He has received so many awards but even with all this, he decided to go back to the university and study and he has now graduated with honours.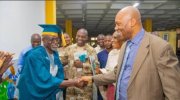 He revealed that when he got into school, he saw his classmates who were as young as his children but he wasn't deterred.
He said he put in the work to make sure he succeeds as an artist. He had made arts his major in the university.
He emphasized how important hard work is.
He revealed his mates at the time had gone to the university, but he did his HSC and went to Sapele and took over from the previous goalkeeper of a club which was known as Amukpe Lions.
He then played till he made it into the National team.