"I'm proud of you" Governor Adeleke praises his nephew, Davido

Governor Adeleke of Osun State has revealed how proud he is of his nephew, Davido for his accomplishments. Governor Adeleke is Davido's uncle and he is also the governor of Osun State. He took to his Twitter account few hours ago to mention how proud he is of Davido. He had been responding to one of Davidos tweet when he revealed this.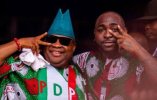 Governor Adeleke's full name is Ademola Nurudeen Jackson Adeleke. He is the current governor of Osun State. He is a Nigerian politician and a businessman. He came into office of the governor in 2022. Prior to his appointment as governor, he was the senator representing the Osun-west senatorial district and this was from 2017 to 2019.
Governor Adeleke is 63 years old. He was born on the 13th of May, 1960 in Ede, Osun state. He is married with 2 children. He is of the Peoples Democratic Party (PDP).
Davido recently shared a tweet saying he had been dreaming about having his show in Atlanta for a long time and now his dreams have come through as he is throwing a festival at the state Farm Arena in Atlanta. Davido shared this excitedly and Governor Adeleke then reacted to this saying he is proud of him and loves him.

Davido tweeted "ATLANTA! A.W.A.Y. Festival is here! I've been dreaming of this moment for a long, long time. To never have played my own show in Atlanta and then have our first one be the festival I'm throwing at @StateFarmArena feels perfect to me. Let's have a TIMELESS night we'll never forget"
His uncle responded saying "Proud of you Nephew! ❤️ you."