President Buhari, and others set to commission Dangote Refinery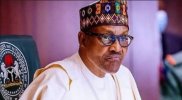 President Buhari
The outgoing president of Nigeria, General Muhammadu Buhari and some other African presidents are set to commission the newly opened Dangote Refinery today, Monday, May 22, 2023.
Other African presidents who will be present include the president of Ghana who is Nana Akufo-Addo, we also have The president of Togo, Faure Gnassingbé, the president of Chad, Mahamat Déby, Macky Sall who is the president of Senegal and Mohamed Bazoum, the president of Niger Republic.
They will commission this new Refinery today. The Dangote Refinery is a subsidiary of Dangote group and it was founded by Aliko Dangote who is the Richest Man in Africa and the Richest Black Man in the world.

Aliko Dangote
The Refinery has the capacity to process 650,000 Barrels of oil daily. They will refine crude oil to petroleum products suitable for use.
The President-elect, Bola Ahmed Tinubu will also be at the occasion today.
With the capacity of this new Refinery, they will be able to meet 100% of the Nigerian requirement for all refined products.