President Joe Biden sends delegation to Tinubu's inauguration
President Joe Biden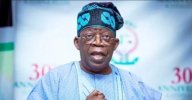 Bola Ahmed Tinubu
The president of the United States, Joe Biden has announced the delegation he is sending to attend president-elect Bola Tinubu's inauguration.
President Joe Biden is the 46th president of the United States. He has revealed that he is sending a team/ delegation which consists of 9 men to attend the inauguration of Tinubu.
The inauguration is set to take place on the 29th of May, 2023 which is next week. This will be at the Eagles Square in Abuja.
President Buden announced this on Monday, May 22, 2023. He said this team will represent him to attend the inauguration.
The delegation will be led by Marcia Fudge, who is the 18th U.S. Secretary of the United States Department of Housing and Urban Development.
He revealed that Marcia is also a past Chair of the Congressional Black Caucus which is of relevance to why she will be leading the team.
Mr Judd Devermont who is the special assistant to US President and senior director for African Affairs in the National Security Council, revealed that he is honoured to be a part of the Presidential Delegation that has been sent to Nigeria to attend the Inauguration.
Others on the list of delegation to Nigeria include David Greene who is from the US Department of State's foreign mission in the US Embassy in Nigeria, Sydney Kamlager-Dove who is a Congresswoman and a member of Joe Biden's Democratic Party, Marisa Lago a U.S. Under Secretary of Commerce for International Trade,US Department of Commerce, General Michael Langley of the US Marine Corps who is the sixth commanding general, Enoh Ebong the Director of US Trade and Development Agency (USTDA), Mary Phee who is the assistant secretary of state of the US Department of State's Africa Bureau, and Monde Muyangwa, who is the assistant administrator for the Bureau for Africa at the US Agency for International Development (USAID) and he was appointed by president Biden himself.