Rema and Selena Gomez's 'calm down' wins top afrobeat song at 2023 Billboard awards

Popular Nigerian Musician Rema and Selena Gomez's hit song titled Calm Down have won one of the Innagural Afrobeats awards at the 2023 Billboard Music Awards. The award show was held recently on Sunday the 19th of November, 2023. Rema and Selena Gomez claimed the award for the top afrobeat awards at the event.
Rema's 'Calm Down' with Selena Gomez is a remix version. The originally song was released as a single by rema in 2022 from his album, Raves and Roses. Ever since the remix with Selena Gomez dropped, the song has been winning lots of international awards.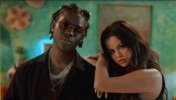 Rema and Selena Gomez's 'Calm Down' was nominated in more than 1 category but only won in the top afrobeats category. It was nominated in Top Billboard Global 200 song, Top Billboard Collaboration, Top Radio Song, Top Billboard Excl U.S song. In the top afrobeat category, it was nominated alongside other Afrobeats songs like Rush by Ayra Starr, Ku lo sa by Oxlade, people by Libianca, Soweto by Victony.

Neither Rema or Selena Gomez were there physically but they recorded their speech for the awards. Rema thanked Selena, Mavin Records and others for their big win. In his words "This honor for 'Calm Down' is a celebration of unity and the global domination of Afrobeats. I want to say a big shoutout to Selena Gomez, Mavin Records, Jonzing World as well as the amazing fans who supported us all the way to this point. I want to say a big thank you to Billboard. I'm very grateful. All the way from Nigeria, Rema. One love."
Selena also spoke about the award and she gave the credits of their win to Rema and expressed her gratitude for being featured on such a hit song.
In her words "Thank you guys so, so much for this award. This is honestly Rema's doing. He chose me to be a part of such an incredible song. So I want to thank him and thank all of you for streaming and listening and I wish we could be there. But thank you!"
Their song calm down has been charting on various music charts and has been breaking records since its release. The song also has over 700 million views on YouTube. See music video below