Rolf Harris passes away at 93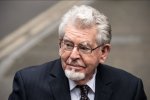 Well known TV personality, Rolf Harris dies at 93 years.
Rolf Harris was an American Television personality, a singer and entertainer.
He used to be a lived person until he was convicted of sex crimes in 2014. He was involved in underage-sex crimes and found guilty of abuse. He was jailed in 2014 and later released in 2017.
His family revealed that he passed away earlier in the month on the 10th of May, 2023.
The family had released a statement saying that Rolf Harris died peacefully in his home and was surrounded by family and friends. They mentioned that they have laid him to rest.
The family also requested for privacy in these times and mentioned they will make no further comment regarding this.
He had died of "metastatic squamous cell carcinoma of neck" and "frailty of old age".
This was what his death certificate, which was dated May 23, recorded.
In 2022, he had been diagnosed with neck cancer and was seriously ill.
On the 11th of May, an ambulance had been spotted outside his home and this ambulance had blacked out windows. Such ambulances are usually used by undertakers.