Sanwo-Olu assures Lagosians of plans to double efforts to deliver Electoral promises.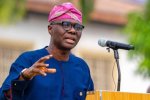 The governor of Lagos State, Governor Babajide Sanwo-Olu has assured lagosians of his plans to double efforts to deliver his electoral promises.
He has promised that his administration will do even more than what they are doing now to ensure that they deliver the promises they made to people during the elections.
He revealed this during a public lecture which was titled "The Making of a Beacon: Lagos and the Consolidation of a Democracy that Works for All,"
This was in commemoration of the inaugural week for the inauguration which is coming up on the 29th of May.
The lecture was held at Onikan, on Tuesday.
He said they are further recommitted to all what they have done so far. He appreciated the support that people gave during the elections.
They also revealed that people are happy with their work and to pay them back for their support, they will do more than they have been doing.
They assured people that they will do more and increase their efforts to keep up with their promises. He assured Lagosians that they will not disappoint them.
He assured that the talk of a "Greater Lagos Rising" is very real and it will indeed happen and all the commitments they made will come to be.