Tinubu sympathizes with Ralph Akinfeleye over his wife's death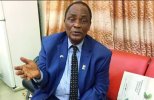 President-elect Bola Ahmed Tinubu, has sympathized with Ralph Akinfeleye over the death of his wife.
Ralph Akinfeleye is a well known professor of Mass Communication in the University of Lagos and his wife passed away not too long ago. He is presently the Chairman of the Centre of Excellence in Multimedia and Cinematography/ Unilag Radio 103.1fm and Television.
His wife, Carol Anike Akinfeleye died on the 6th of May, 2023. We learnt she had suffered a brief illness before her death. She had passed on at the age of 64 years.
She was a retired principal and also a director of Education in Lagos.
She was known to hold the title of Yeye Gbekonuyi of Idanre Kingdom which is in Ondo State.
Tinubu sent his condolences to the family on Tuesday, May 23rd in a statement which was signed by his media aide, Tunde Rahman.
He revealed how the late wife had made an impact, and touched the lives of many.
He prayed that God would grant them all comfort in these difficult times.
He also prayed that God will strengthen Professor Akinfeleye and his children.
The commendation service has been slated slated the 8th of June, 2023 in Lagos.
The wake will come up on the 15th of June at Durusomo Events Centre, Yaba, Odode Idanre.
The Burial will be on the 16th of June in Ondo state which is the hometown of the later wife.